Scanfrost 300L Chest-Freezer SFL300 ECO
Scanfrost 300L Chest-Freezer SFL300 ECO is a functional deep freezer with amazing features. Scanfrost products are known to be extremely reliable.  Rated an exemplary A for energy efficiency, the Scanfrost Chest Freezer SFL300 is designed to help you maintain an economical home, has extreme cooling facilities thereby keeping your food stuff crisp and dry, ever ready.
This product has extreme cooling facilities. It is a very portable yet efficient freezer. It is the appropriate assistance to store smaller food stuff which will minimize the cost of buying them constantly.
This product is designed in such a way that it has enough space to occupy so many food items. this freezer has just the right amount of legroom.
Keeping edibles constantly fresh is one of the major jobs of this product. The body of this freezer has been designed in such a way that it does not rust.
This freezer also comes with a lock with key function, cooling compressors are installed. it also has a four way cooling design. This freezer remains frozen for up to 120 hours after power outage.
Quick Overview:
300 Litres capacity
Control Lock & key with handle
Low voltage operation ability
Anti-Rust Exterior
Chest Freezer.
Freestanding.
Energy Efficiency.
Quick freeze function.
Adjustable temperature.
Dimension 65.5x45x89cm.
Eco friendly
Extreme cooling capacity
120 Hours cooling retention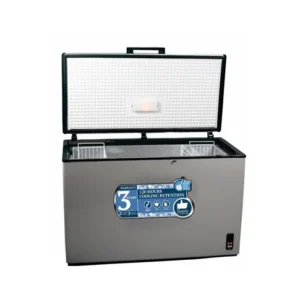 Real Images
Finally, if you love to see real images of Scanfrost Chest Freezers? Check out our Mitosshoppers instagram page. You certainly wont get it wrong.
By all means, shop for varieties of Scanfrost Freezers at https://RECOTEKS.com. We offer quality, assurable, affordable, and discount for the right products. We provide warranty support with Service Centre when needed. We effectively ensure fast delivery and for most locations, offer payment on delivery option.
Because we care for you we partnered with our installation partner with installation services when requested. You will certainly be glad to give a positive review when we serve you. To clarify any area of concern, Our support lines are available.